Mechanical Pipette-MicroPette/MicroPette Plus (0.5-300µL) Multi-Channel , Autoclavable, DLAB
Brand:

DLAB

Model:

MicroPette plus /MicroPtte

Availability:

In Stock
---
Ask Question About Product
Note:
HTML is not translated!
Mechanical Pipette-MicroPette/MicroPette Plus (0.5-300µL) Multi-Channel , Autoclavable, DLAB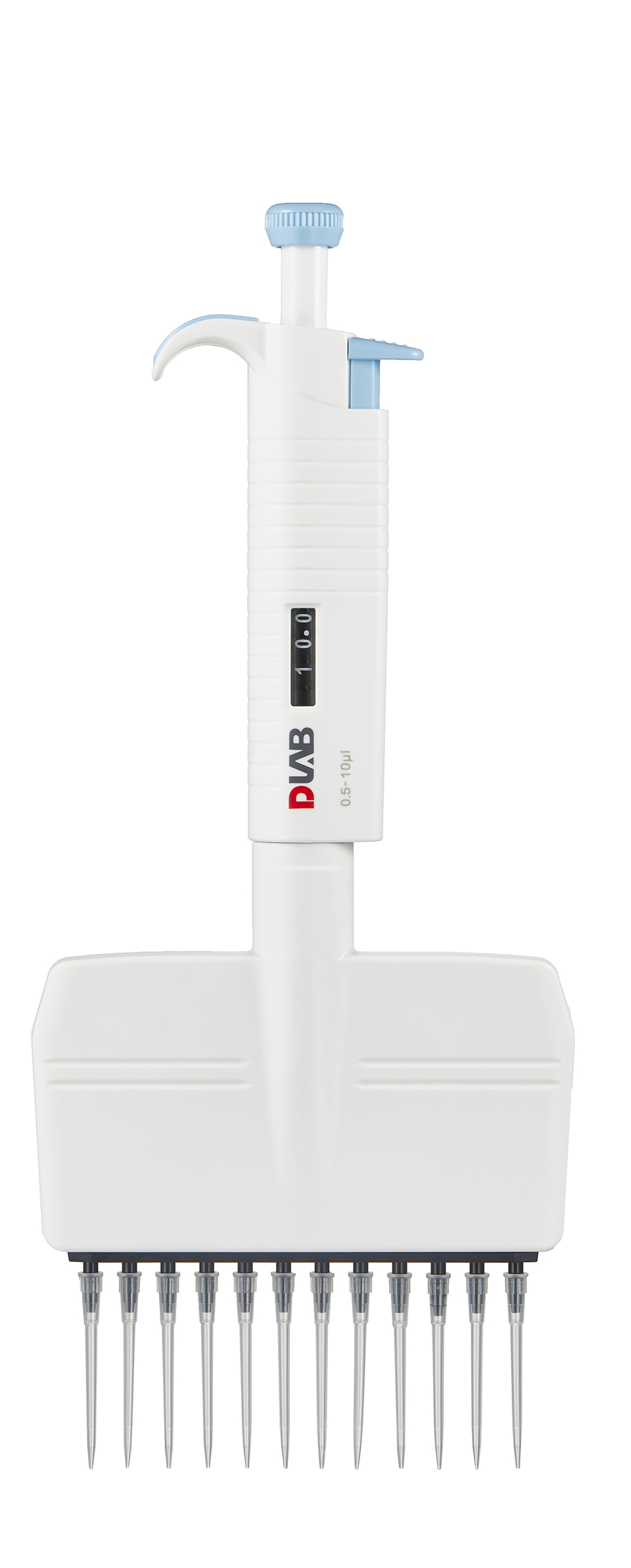 Description:
All DRAGONLAB pipettes have been quality tested according to ISO8655-2:2002 with calibration certificate. The quality control involves gravimetric testing of each pipette with distilled water at 22℃.
Function:
The Mechanical Autoclavable Pipettes are fully autoclavable, enable easy cleaning and reduce the risk of contamination. Steam autoclaving can be performed at 121°C, 1 bar for 20 minutes. After autoclaving, the pipette must be cooled down and left to dry for 12 hours before use.
It is recommended to check the performance of the pipette after each autoclaving. Greasing and sealing of the pipette piston after every 10th autoclaving will secure an enhanced function.
Features:
Dispensing head rotates for effortless pipetting convenienve

Individual piston and tip cone assembly allow for easy repair and maintance

Compound material-made tip cone secures high sealing performance

Compatible with most universal tip brands

Onlie calibration is available

8 and 12 channel pipettes are appropriate for 96well plates
Specification:
Multi-channel Adjustable Volume Pipettes

Volume Range

Increment

Test Volume

Error limits in accordance with ISO8655-2

(Accuracy error)

(Precision error)

%

μL

%

μL

0.5-10μL

0.1μL

10μL

1.50%

0.15

1.50%

0.15

5μL

2.50%

0.125

2.50%

0.125

1μL

4.00%

0.04

4.00%

0.04

5-50μL

0.5μL

50μL

1.00%

0.5

0.50%

0.25

25μL

1.50%

0.375

1.00%

0.25

5μL

3.00%

0.15

2.00%

0.1

50-300μL

5μL

300μL

0.70%

2.1

0.25%

0.75

150μL

1.00%

1.5

0.50%

0.75

50μL

1.50%

0.75

0.80%

0.4
Packing Information
MicroPette Plus ---- 8 Channel
| | |
| --- | --- |
| Cat. No. | Volume |
| 7030303004 | 0.5-10μl |
| 7030303006 | 5-50μl |
| 7030303012 | 50-300μl |
MicroPette Plus ---- 12 Channel
| | |
| --- | --- |
| Cat. No. | Volume |
| 7030304004 | 0.5-10μl |
| 7030304006 | 5-50μl |
| 7030304012 | 50-300μl |
MicroPette ---- 8 Channel
| | |
| --- | --- |
| Cat. No. | Volume |
| 7030203004 | 0.5-10μl |
| 7030203006 | 5-50μl |
| 7030203012 | 50-300μl |
MicroPette ---- 12 Channel
| | |
| --- | --- |
| Cat. No. | Volume |
| 7030204004 | 0.5-10μl |
| 7030204006 | 5-50μl |
| 7030204012 | 50-300μl |
Related Products