1550W DHG Air Dry Oven, Volume: 70L, AC220V, 50HZ, Big LCD Screen, Unique Air Duct System, Huitai Equipment
---
Ask Question About Product
Note:
HTML is not translated!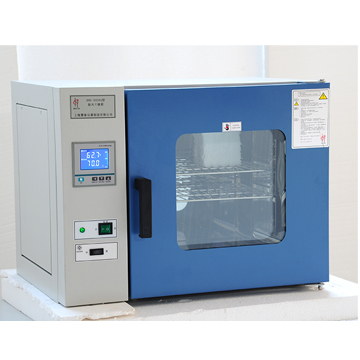 Summary: The product is applied in industrial and mining enterprises, laboratory, R&D institution and other places for desiccation, baking dewaxing and sterilization.

Features:
·Several sets of data shows in a big LCD screen. The operation interface can be easily understood and handling.
·Unique air duct system, no manual adjustment any more. Vapor can be released automatically.
·Microcomputer control with timing. Overtemperature deviation protection and digital display, accurate and reliable. ·Specular stainless-steel chamber, semicircular arcs at corners for easy cleaning, and the space between the shelves can be set by the customer.
·Good cold-roll shelf sheets cover, with anti-static plastic coating.
·Independent alarm system for temperature-limiting, automatically interrupt operation when exceeding the limit. Ensure the safety of the experiment. (optional)
·RS485 interface may link the recorder and the computer, records the changes of temperature parameter. (optional)
Options:
Intelligent program controller
Independent limit temperature controller
Embedded printer
RS485 interface and special software
Test hole 25mm/50mm