Ask Question About Product
Note:
HTML is not translated!
Basic-Q (-IT) Series Deionized Water System (Tap Water Inlet), Resistivity: 13-17.5MΩ.cm, HHitech
Features and Advantages
Automatic microcomputer controlling system, LED real-time animation mode display.

Running status is showed in the LED display, such as flushing, producing water, full tank, water shortage, leakage and service.

Power-on self-test, power reset, alarm when work more than 6 hours continuously, water shortage, leakage, low and high pressure.

3 procedure of the reverse osmosis membrane's self-flushing: power on, water shortage reset and work more than 2 hours

continuously, extend the life of RO membrane.

2 kind of installation type, Desk and wall-mounted (except for 45 series and built-in tank model).

High-strength metal shell with powder painting technics, achieve elegant appearance and meeting GLP standard

Pretreatment cartridges, RO module, deionized cartridges, all designed to modularization independently, easy for maintenance and

replacement.

Built-in 12 liters pressure water tank (IT series), save laboratory space, easier for installation and maintenance.

External water tanks is optional to meet different need and assure ample water-supply.

Tube and adapter with NSF authorization and top quality, reduce TOC level and assure ultrapure water's quality.

Standard pretreatment (including PP fiber, and active carbon cartridge), effectively protect RO membrane and run in low cost.

RO module with DOW's membrane, ensure long life, stable operation and high desalinization rate.

Precision mixed resin cartridge, combine high pure water quality and low running cost.

Portable TDS/conductivity test pen, convenient to test feed water, RO water and deionized water's quality.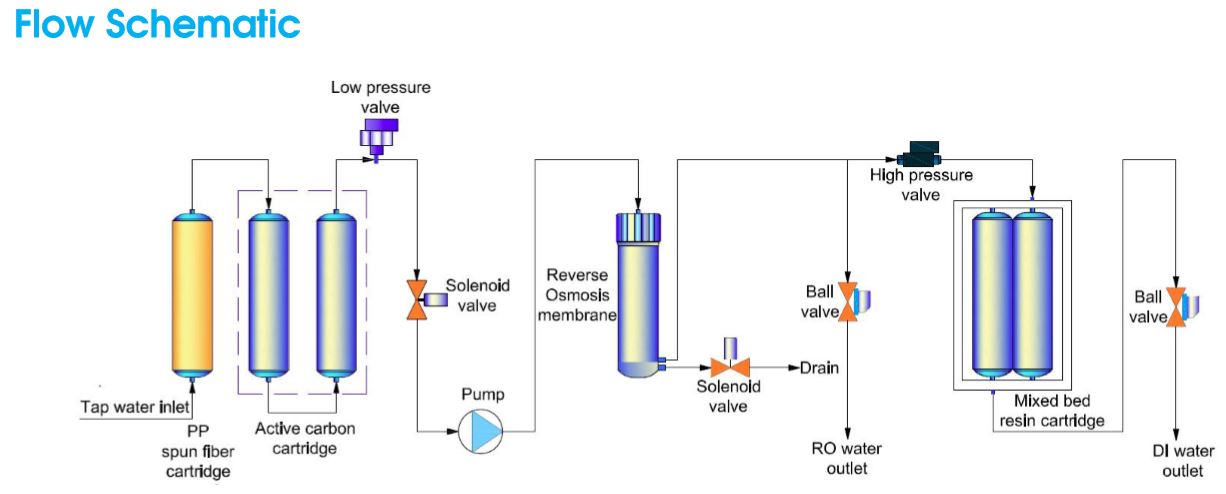 With LED controlling system, single stage RO system, 1 pump, PortableTDS/conductivity test pen, and built-in 12literstank ( IT series) , Basic-Q series deionized water system is basic choice of deionized water for general grade experiments. And Basic-Q-IT series is added built-in 12 liters tank on the basis of Basic-Q.
With tap water inlet, its output ranges from 15 to 45 liters/hour. It can produce single stage RO water and deionized water. ThesinglestageRO water'sionrejectionrate is morethan96%, and the deionized water's resistivity is more than 13MΩ.cm, near to17.5MΩ.cm. It completely meets the requirements of general chemical or biological experiments for pure water. And it is perfect upgraded replacement forwater distiller.
Specifications
Model

Basic-Q15

Basic-Q30

Basic-Q45

Basic-Q15-IT

Basic-Q30-IT

-

Output(25°C)*

15 liters/hour

30 liters/hour

45 liters/hour

Flow rate

Up to 2 liters/minute(with pressure tank)

Pure water outlet

2: reverse osmosis water, deionized water

Deionized water quality

Resistivity

13-17.5MΩ.cm

Bacteria

<0.01cfu/ml(with optional 0.2µm PES terminal filter)

Particle(>0.2µm)

<0.01cfu/ml(with optional 0.2µm PES terminal filter)

RO water quality

Ion rejection rate

97%-99% (new RO membrane)

Organic rejection rate

>99%, when MW>200 Dalton

Particles and bacteria rejection rate

>99%

Feed water requirements

Tap water, temperature:5-45°C,pressure:1.0-4.0Kgf/cm2

Dimension and weight

Q15,Q30 series: Length×Width×Height: 410×320×420mm/ Weight: about 15Kg




Q15-IT,Q30-IT,Q45 series: Length×Width×Height: 410×400×420mm/ Weight: about 20Kg

Electrical requirements

AC110-240V, 50/60Hz
Remarks:
*The value will be influenced by temperature and feed water's quality.